Wish Teaching Academic Writing Remotely was Easier?
EssayJack is a smart templating software that can be used to teach and learn writing in-person or online.
The smart templates include tips, interrogative prompts, sentence starters, and video guidance to guide students while writing. Templates are full customisable, giving educators the flexibility to create templates suited to their students' needs.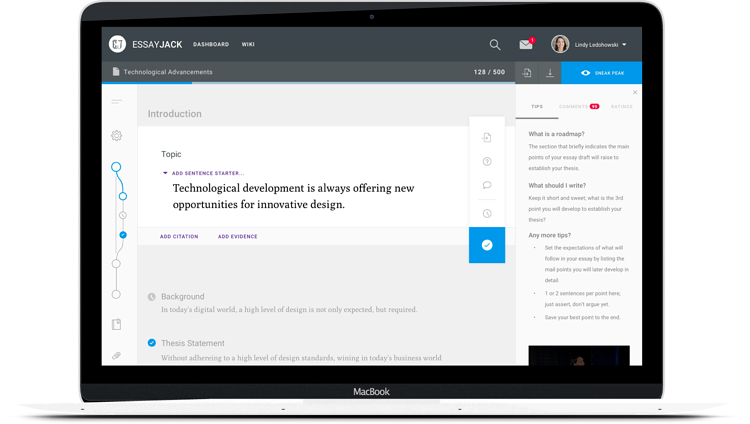 EssayJack provides students with a framework within which to write. Students who use EssayJack find that it:
Reduces writing stress and anxiety
Reduces time taken to write essay drafts
Improves grades
EssayJack Provides students with
a framework/ structure

within which to write.
Tips and prompts
Sentence starters
Help videos
Resources
Grammar integration
EssayJack smart templates are built on
sound pedagogy

(built by award winning professors) and provide guidance throughout the drafting process.
Scaffolding
Chunking
Interrogative prompts
What makes EssayJack Special?
Reduce time spent on editing and creating templates.

Provides

guidance 24/7

with custom templates.
Ensure students focus while working within the various smart templates features.

Build Conclusion Feature

allows students to build a preliminary conclusion.

Sneak Peek function

helps students see how their essay is progressing.

Yes, EssayJack is LTI compliant which means it can easily be integrated into any LMS.

Yes! EssayJack includes a Review Essay feature allowing users to review essays and return with formative and feedback.

No. Why? The point is to reduce writing stress and anxiety. When students are ready, they share their work with educators for review.
Would you like to see inside?
Interested? Please book a date to find out more!