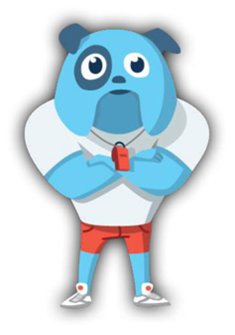 Immersive Online Platform
For Language Learning
Entertainment Learning
An innovative EdTech company specialised in language learning
Created by media and video game specialists in collaboration with teachers and researchers in neuroscience, Entertainment Learning disrupts language learning with pedagogy that is both fun and effective.
Our learning units combine video and games for an immersive and engaging experience designed for short, frequent sessions.
Entertainment Learning has three language-learning services that together are used by over a million learners.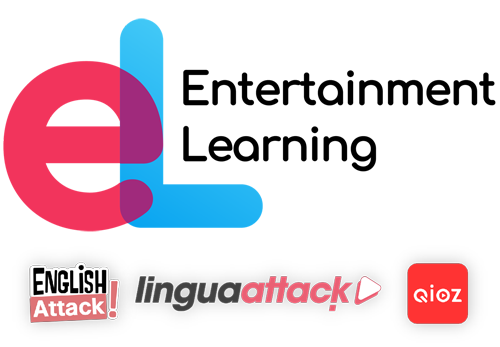 English Attack
Entertainment Learning's original web-based platform for learning English, designed for educational establishments and individuals.
Lingua Attack
The evolution of English Attack, with a new design, new types of learning units for everyday and workplace language situations, special units for beginners in a language, and the addition of new learning languages.
Lingua Attack is a web service as well as an iOS and Android application.
QIOZ
The web and mobile app language learning solution of the Paris Region, based on the Lingua Attack platform. Access to QIOZ is limited to residents of the Ile-de-France region, whether individuals or secondary school students.
Why Lingua Attack ?
Innovation and effectiveness in language learning
Lingua Attack is a multi-platform solution to the problems most frequently encountered in learning a foreign language.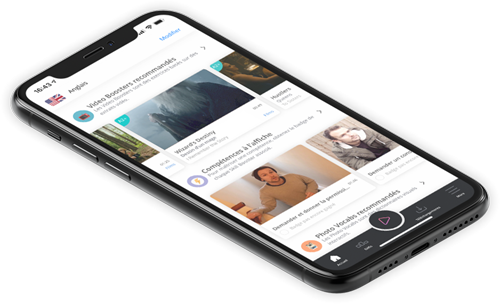 How to create frequent exposure to the language being learned?
Learning a language requires frequent exposure to it – at least several times per week – for a sufficiently long duration.
Lingua Attack facilitates frequent exposure to the language being learned via its short-format learning units, designed for learning with a teacher / trainer or, alternatively, in autonomous learning mode.
The

iPhone

and

Android

mobile applications, synchronised with the web platform, make learning anywhere, any time easy and convenient, thus increasing the opportunity to practice more frequently.
Where can I find authentic materials?
The use of authentic materials in language learning is strongly recommended by the European Union.
Lingua Attack features thousands of exercises based on authentic videos (scenes from films and television series, music videos, news clips, and more) for immersion learning that is not only linguistic, but cultural as well.
New units are published every week, constituting a constant stream of fresh content continuously added to the learning unit catalogues.
How to motivate and engage learners?
By using video – and, in particular, clips from current films and television series – as the main form of learner input, Lingua Attack is able to engage learners with their foreign language learning by appealing to their interests.
Learner motivation is further reinforced by a steady stream of new content published every week; by an attractive and intuitive user interface; and by gamified exercises.
The use of scores on the platform (which learners are encouraged to try to increase, as in a game) rather than grades results in increased frequency of use, and thus effectiveness of learning.
Languages
6 learning languages and 26 user interface languages
Lingua Attack is a world-class language-learning platform with a constantly growing number of available learning languages.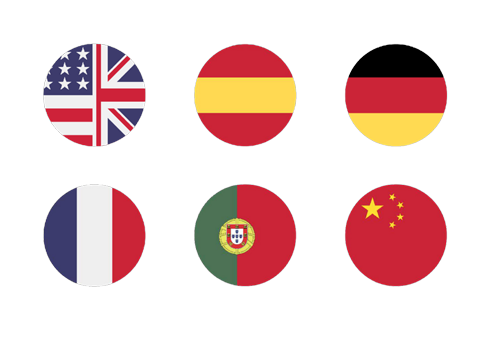 Learning languages
Lingua Attack currently features six learning languages:

English

,

Spanish

,

French

,

German

,

Portuguese

, and

Chinese

.
The exercises on the platform cover levels A1 to C1 of the

CEFR

(the Common European Framework of Reference for Languages).
80% of the exercises are calibrated to the A2 to B2 levels, and one type of learning module (Starter Labs) is designed specifically for the needs of beginners in a language (A1 level).
Level assessment tests are available for all learning languages.
User interface languages
Lingua Attack is a fully globalised platform.
A learner can choose his or her user interface language for the 26 language options available: Arabic, Bahasa, Bulgarian, Catalan, Chinese (Simplified), Chinese (Traditional), Czech, English, French, German, Greek, Hindi, Hungarian, Italian, Japanese, Korean, Polish, Portuguese, Romanian, Russian, Sinhala, Slovak, Spanish, Thai, Turkish, Ukrainian and Vietnamese. As an option, an organisation can set the user interface language to be the same as the learning language.
The platform's translation functionalities are available for all of the same languages.
The platforms
A responsive-design website and mobile applications
Lingua Attack is a website and a mobile application. User accounts are synchronised between the two platforms, with learners using the same log-in for the website or application and accessing the same set of personal learning data.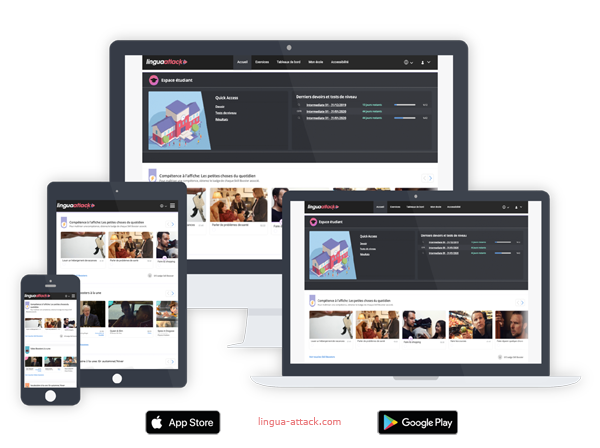 Compatible with all internet browsers
Lingua Attack is a Responsive Design website (the display automatically adapts to the screen size of the device being used) and is fully compatible with both the

MacOS

and

Windows

operating systems.
The website supports all web browsers: Chrome, Safari, Internet Explorer (version 11 et later), Edge, Firefox and Opera.
iOS et Android mobile applications
The Lingua Attack

iPhone

and

Android

smartphone applications are available for download from the

App Store

and

Google Play

.
These are native applications, with a user interface and ergonomics specifically designed for use on mobile devices.
The mobile applications feature all the functionalities and content of the Lingua Attack website. Some functionalities, such as the ability to download exercises for offline play, are specific to the mobile applications.
A platform fitting the needs of all types of organisations
Lingua Attack meets the needs of all types and sizes of organisations, from companies and training agencies to establishments of secondary and higher education.
Lingua Attack
Presentation of the plateform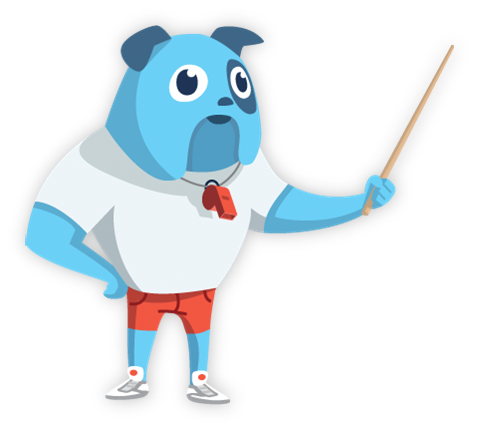 Video Boosters
A large and growing catalogue of exercises based on authentic videos
Video Boosters enable the learning of languages as they are actually spoken, through video exercises based on clips from films and television series, music videos, TV news reports and documentaries.
There are over

1,300

Video Boosters for the learning of English, and over

200

for each of the other learning languages.
New Video Boosters, in line with the latest film releases, news items and cultural events, are published several times a week.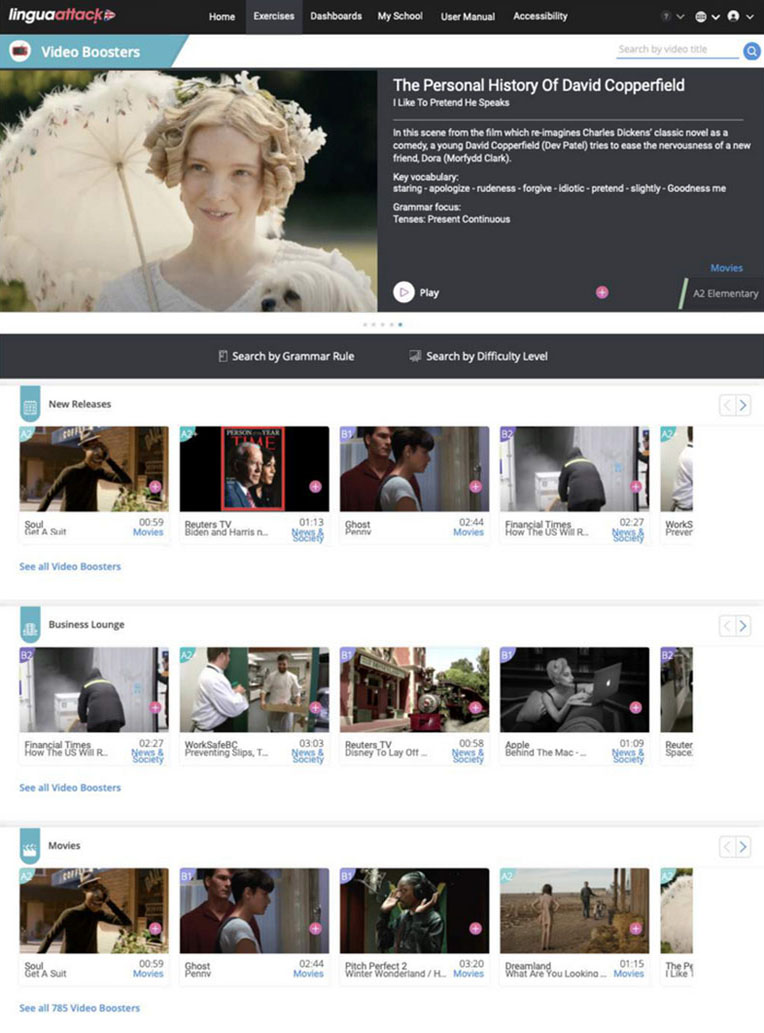 Categories
The Video Booster catalogue is organised by broad category:
Films
Television Series
Music
News and Society
Leisure
Business
Search and filtering
An advanced Search tool allows the filtering and search for Video Boosters according to numerous criteria: CEFR difficulty level, franchise title, clip title, publication date, or grammar rule.
A learner or tutor can add any Video Booster to his or her personal Favorites list for later use or revision.
Video Boosters
Immersive, multi-step exercises
Video Boosters enable immersive language learning, with contextualised vocabulary and a focal grammar point. The activity encompasses several language skills: listening, reading, vocabulary and grammar.
Each unit is based on a short (one to three minutes) video clip. On average, a learner can complete the eight steps that constitute a Video Booster in about 15 minutes.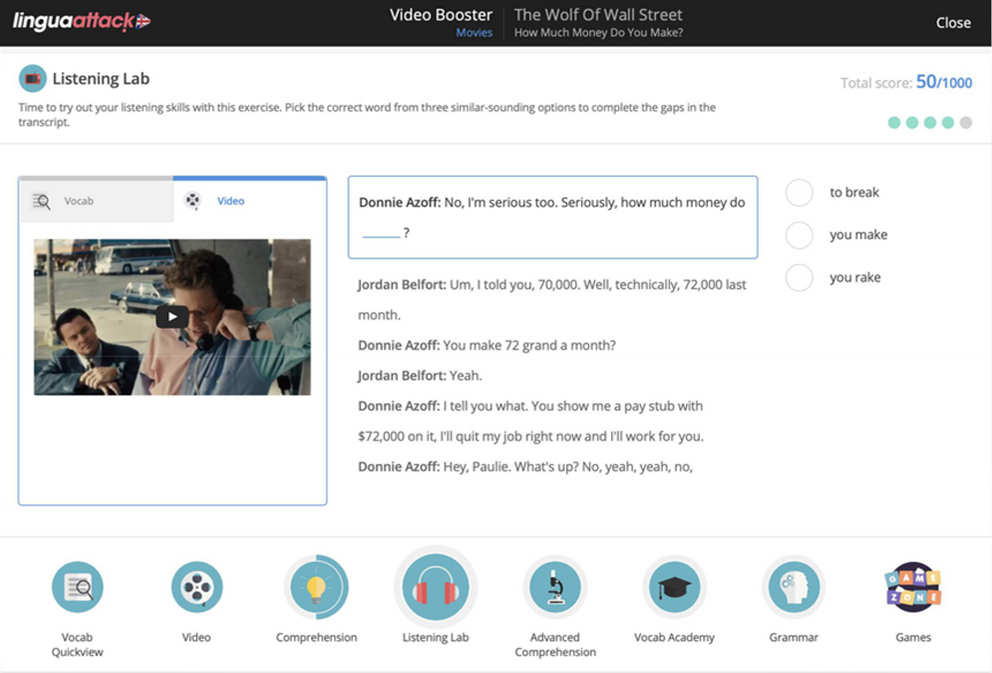 Vocab Quickview
Eight key lexical items from the video, with pronunciation, definition and use in a sample sentence.
Video
Total immersion into the video, with no subtitles or other forms of assistance.
Comprehension
Four multiple-choice questions testing gist (general) comprehension of the video.
Listening Lab
Unlocking of the dialogue transcript via a gap-filling exercise.
Advanced Comprehension
Two questions on more detail-oriented aspects of the video, with the video transcript available as a resource.
Vocab Academy
Using five of the eight key vocabulary items in a paragraph, written by our authors in a context similar to that of the video.
Grammar
Learning and practicing a grammar rule or usage principle seen in the clip dialogue.
Games
Two games with repetition of key lexical items to help long-term vocabulary retention.
Photo Vocabs
Over 250 thematic visual dictionaries
Strengthening vocabulary is essential in learning a foreign language. A Photo Vocab is an interactive visual dictionary comprising 16 vocabulary items, designed to turn the acquisition of new vocabulary into an effective and fun experience.
There are more than 250 thematic Photo Vocabs, ie more than 4,000 expressions and words per learning language.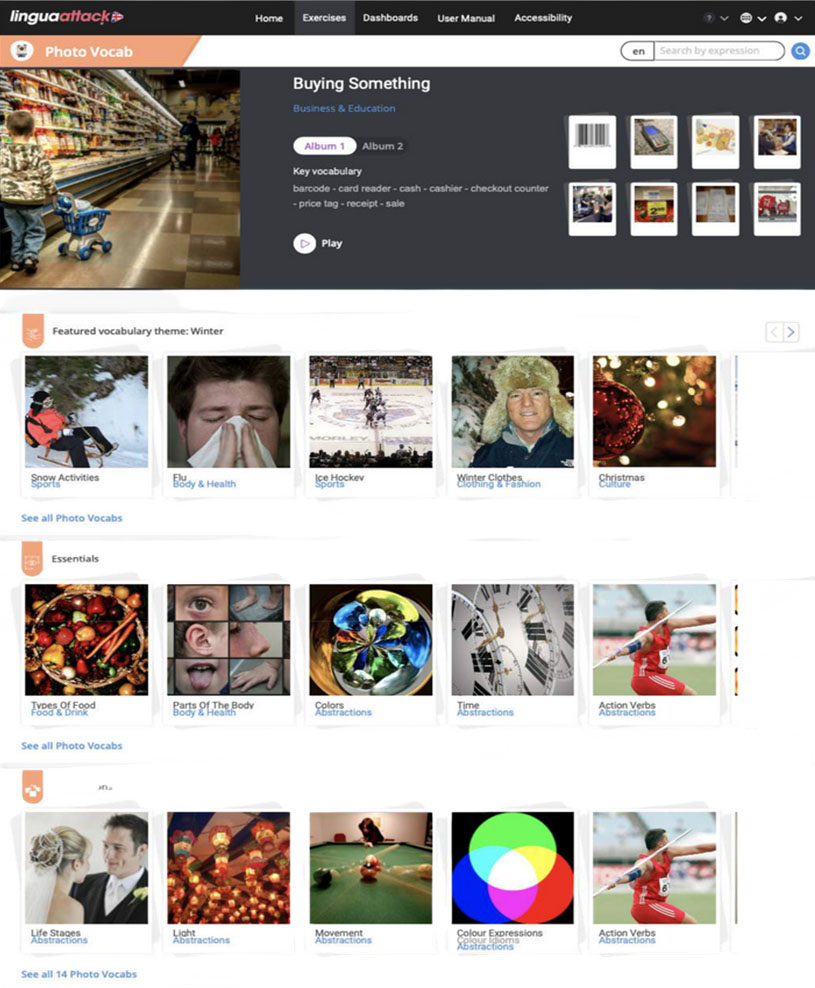 Categories
The thematic visual dictionaries are organised by category:
Abstractions
Body & Health
Culture
The House
Places
Hobbies & Technology
Nature
Food & Drink
Society
Sports
Transport
Business & Education
Clothing & Fashion
Travel
Search criteria
Learners and tutors can search the Photo Vocabs database for vocabulary items either in the learning language or in the chosen user interface language.
An Essentials section brings together the basic vocabulary that every learner must master.
Learners and tutors can search the Photo Vocabs database for vocabulary items either in the learning language or in the chosen user interface language.
An Essentials section brings together the basic vocabulary that every learner must master.
Photo Vocabs
Gamified exercises for optimum retention
Each Photo Vocab is organised into two albums of eight expressions each that the learner practices with a series of exercises and games.
All the dimensions of the vocabulary are thus practiced, in different formats, thus creating neural connections resulting in optimised long-term retention of the lexical items.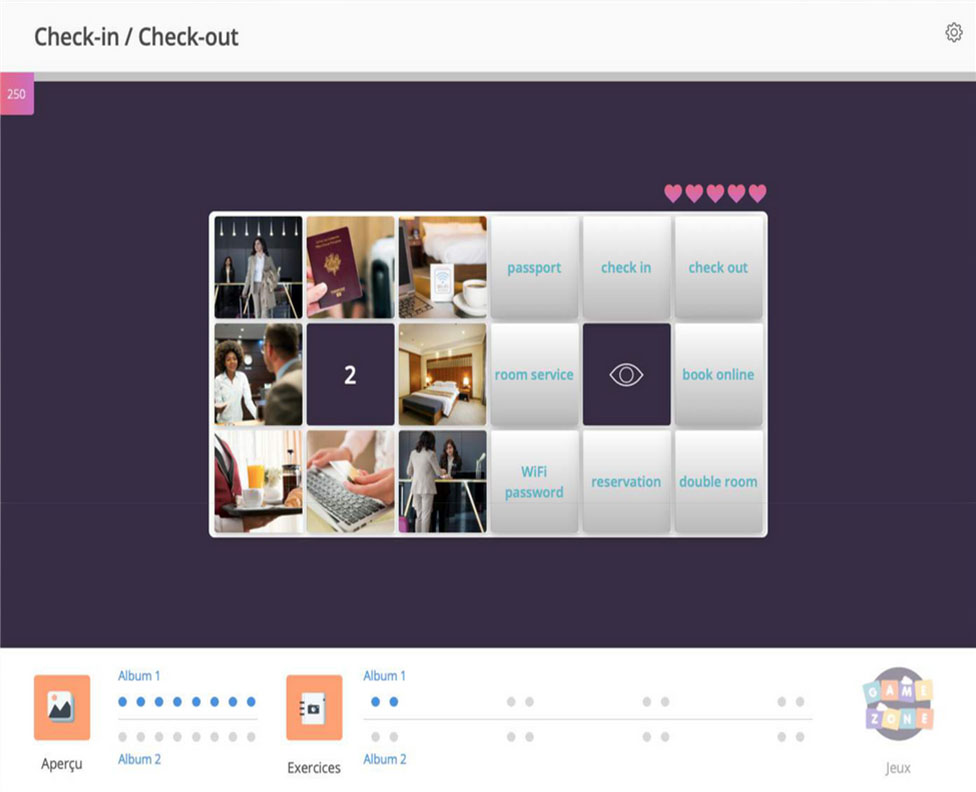 Presentation of the vocabulary
Each term is illustrated with a photo and has been contextually translated by a human translator.
The vocabulary item is used in a sample sentence, and an audio file can be played to hear the correct pronunciation.
Exercises
Photo Vocab exercises focus on the meaning and spelling of the vocabulary item, and assess the learner's pronunciation of the term.
For better memorisation and learner focus, the vocabulary items are practiced in pairs.
Games
At the end of each Photo Vocab album, a series of four games – two interactive word grids, a true / false visual game and a Memory-type game – favors the vocabulary's retention in long-term memory.
Skill Boosters
33 video exercises for everyday and workplace situations
With exercises based on pedagogical videos, Skill Boosters familiarise the learner with the most common language situations of everyday and professional life.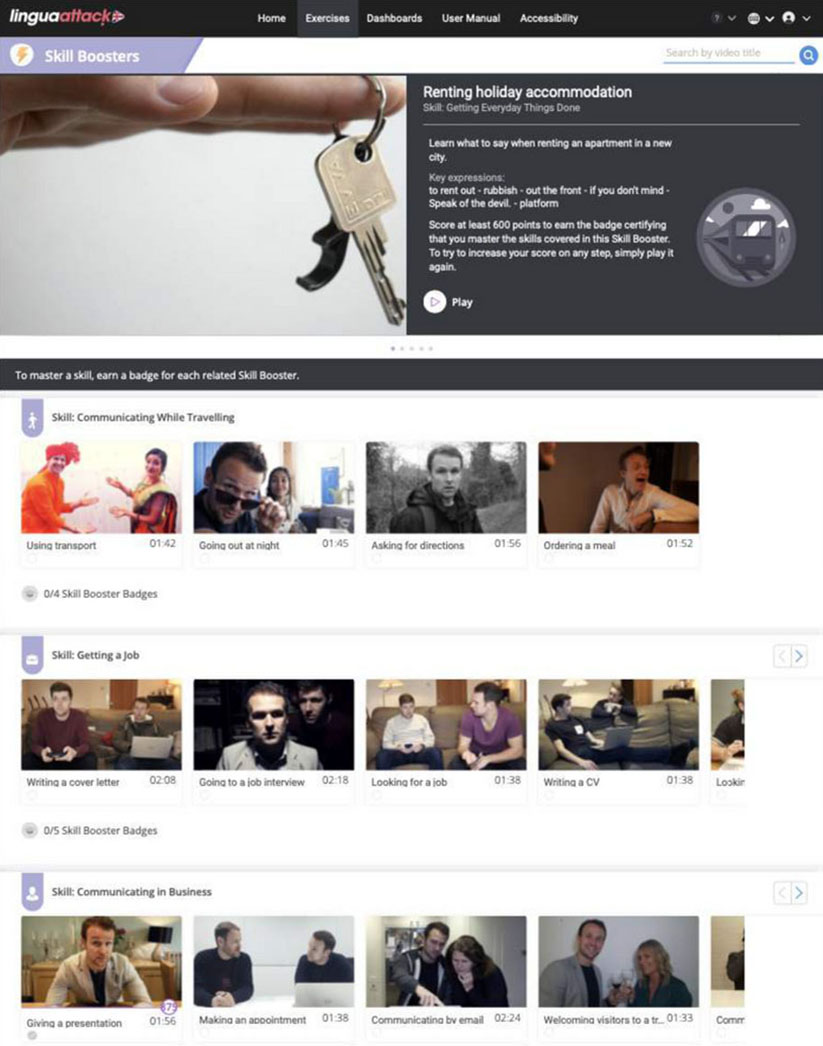 Co-produced in collaboration with Youtubers
Skill Booster units are based on short videos produced in collaboration with Youtubers for the different languages offered on the platform, thus bringing the video producers' creativity, humour and authenticity to this activity.
The lexical field of each Skill Booster has been defined by language experts.
A wide range of language situations
The
33 Skill Boosters
are organised into six themes:
Getting everyday things done
Getting your message across
Communicating while travelling
Communication in business
Welcoming visitors
Getting a job
Badges
Bronze, silver and gold badges indicate the learner's level of proficiency for the situation being practiced.
Badges are unlocked according to the score obtained on the Skill Booster.
Skill Boosters
Exercises capped by a skills assessment
By replaying sections of the video and repeatedly listening to the corresponding dialogue throughout the Skill Booster, the learner gradually becomes familiar with the language elements specific to a situation and integrates them into his or her linguistic reflexes.
The seven steps of a Skill Booster are concluded by an assessment.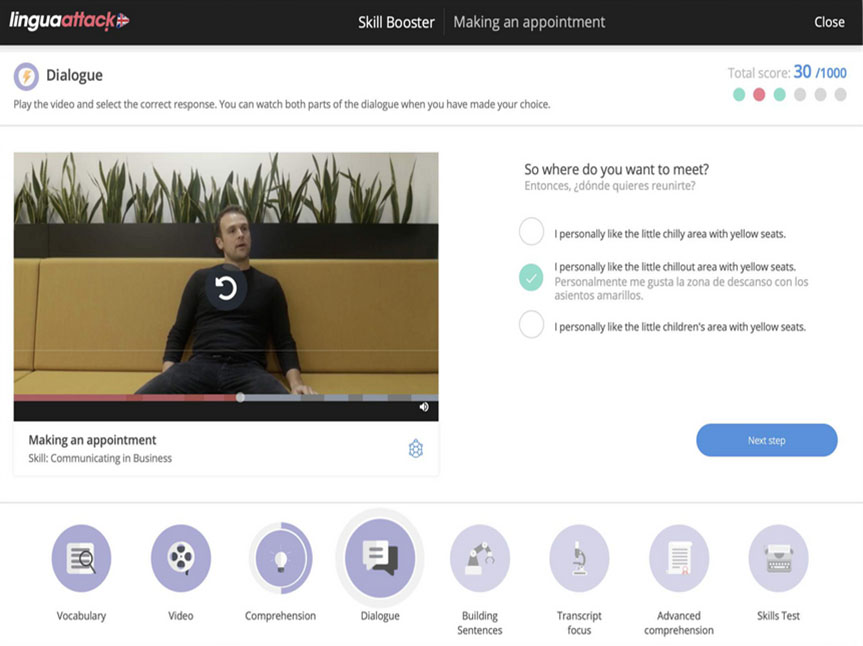 Vocabulary
Six key lexical items, each with its pronunciation, translation and use in a sample sentence.
Video
Viewing of the video without subtitles or any other form of assistance.
Comprehension
Two multiple-choice questions testing the general (gist) understanding of the video.
Dialogue
The learner fills in the missing dialogue when the video pauses.
Sentence construction
Reconstitution of passages in the dialogue by putting words in the correct order.
Transcription
Unlocking of the transcript via a gap-filling exercise.
Advanced comprehension
Two more detail-oriented questions, with the full transcript available as a resource.
Proficiency test
An evaluation comprising two segment-matching steps, two multiple-choice gap-filling tasks and six free-text gap-filling questions.
Starter Labs
A 20-episode animated series designed for beginners
Starter Labs are learning units designed specifically for beginners in a language.
Presented as an animated series, each episode addresses a specific theme in a minimalist visual style for greater focus on the target language.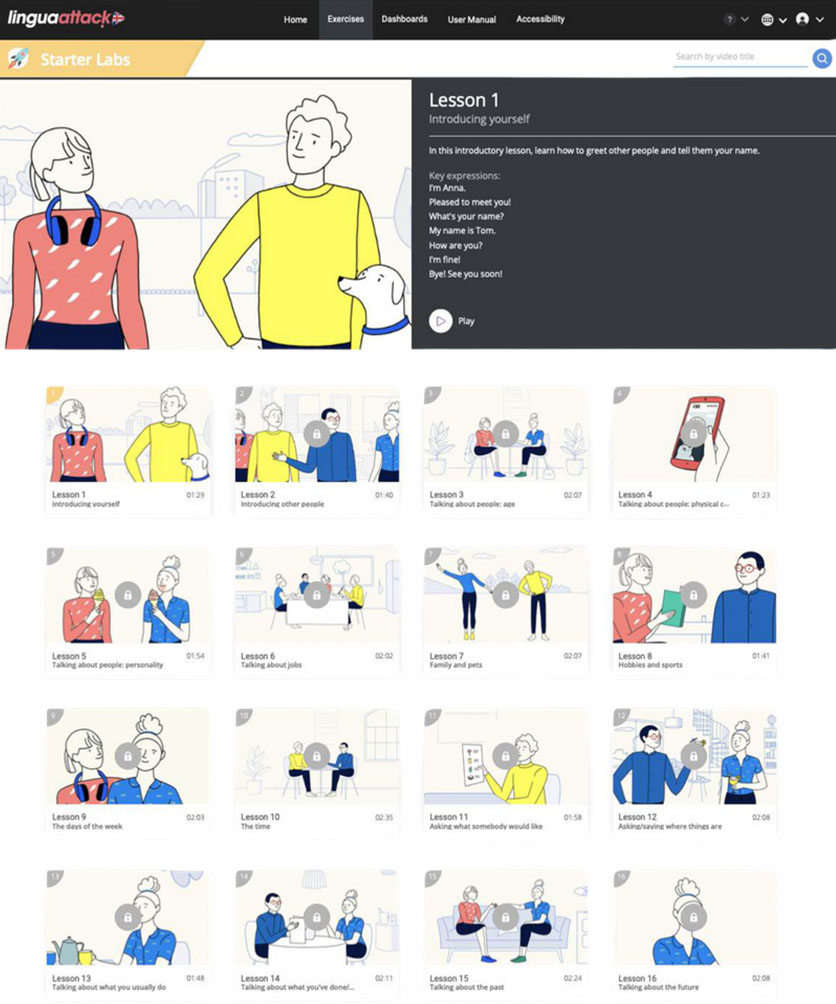 Linear progression
In order to better guide the learner in his or her first steps in the language, Starter Lab episodes are unlocked in linear progression, from episodes 1 to 20.
Themes for starting to learn a language
The 20 episodes of the Starter Labs series progressively introduce the learner to the fundamental structures and expressions of a new language.
Introducing yourself, introducing other people, age, physical appearances, personality, jobs, family & pets, hobbies & sports, the days of the week, talking about time, proposing something, asking about location, habits, past experiences, talking about the past, talking about the future, describing an activity, describing a house, comparing, and, to conclude the series, a revision practice episode.
Activities accessible to true beginners
The dialogues in the Starter Lab videos are clear and distinct; the vocabulary is very focused; and a turtle icon allows the learner to slow down the video to hear the dialogue even more distinctly.
Starter Labs
Simple language elements with translation
Starter Labs introduce core vocabulary and simple grammatical forms that can be understood by beginners in a language. At the end of each episode, the most important spoken sentences appear on the screen for easy memorisation and oral / written association.
In order to facilitate the understanding of the dialogues, and to create the essential linguistic connections, Starter Labs use translation more extensively than the other types of learning units on Lingua Attack.
A Starter Lab consists of six steps: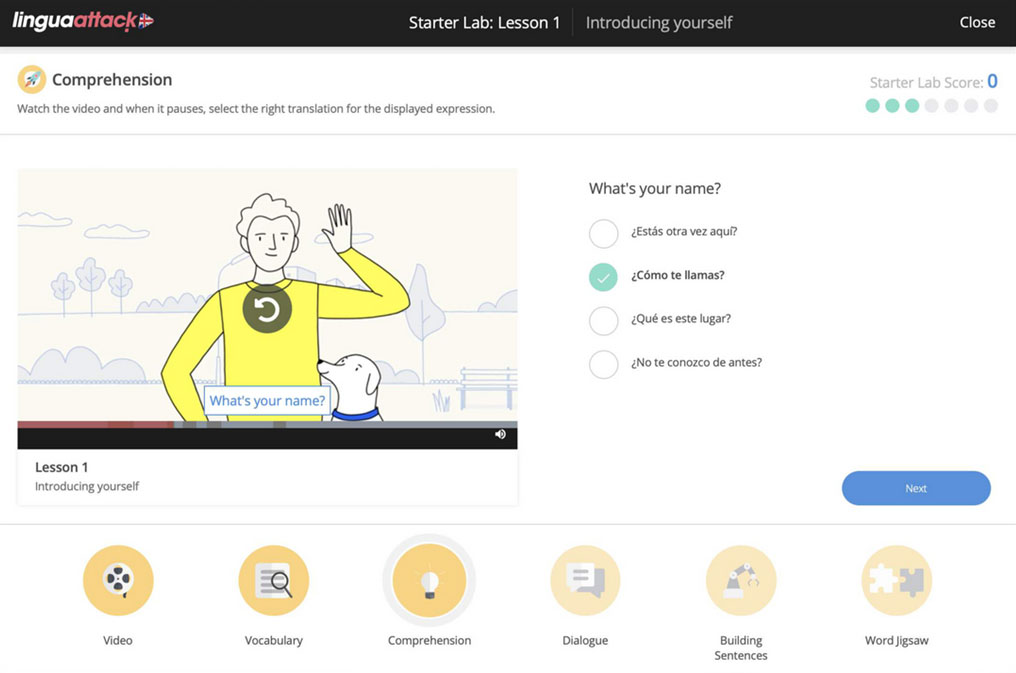 Video
A first play-through of the video (video length approximately two minutes).
Vocabulary
Presentation of the seven key lexical items, with their translation and pronunciation.
Comprehension
Seven multiple-choice questions testing the learner's general understanding of the video.
Dialogue
Pairs matching on dialogue segments, testing for the proper responses.
Sentence construction
Reconstitution of selected sentences of the video dialogue through placing words in the correct order.
Word puzzle
Recap gap-filling exercise revising the key vocabulary used in the episode.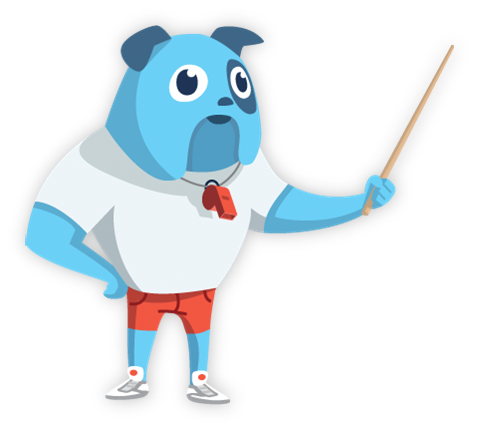 Learning experience and progress tracking
The Learner experience
Coaching that encourages discovery learning
Designed for autonomous learning as well as for tutor-led learning, Lingua Attack guides the learner on a non-linear journey that promotes discovery via adapted content recommendations.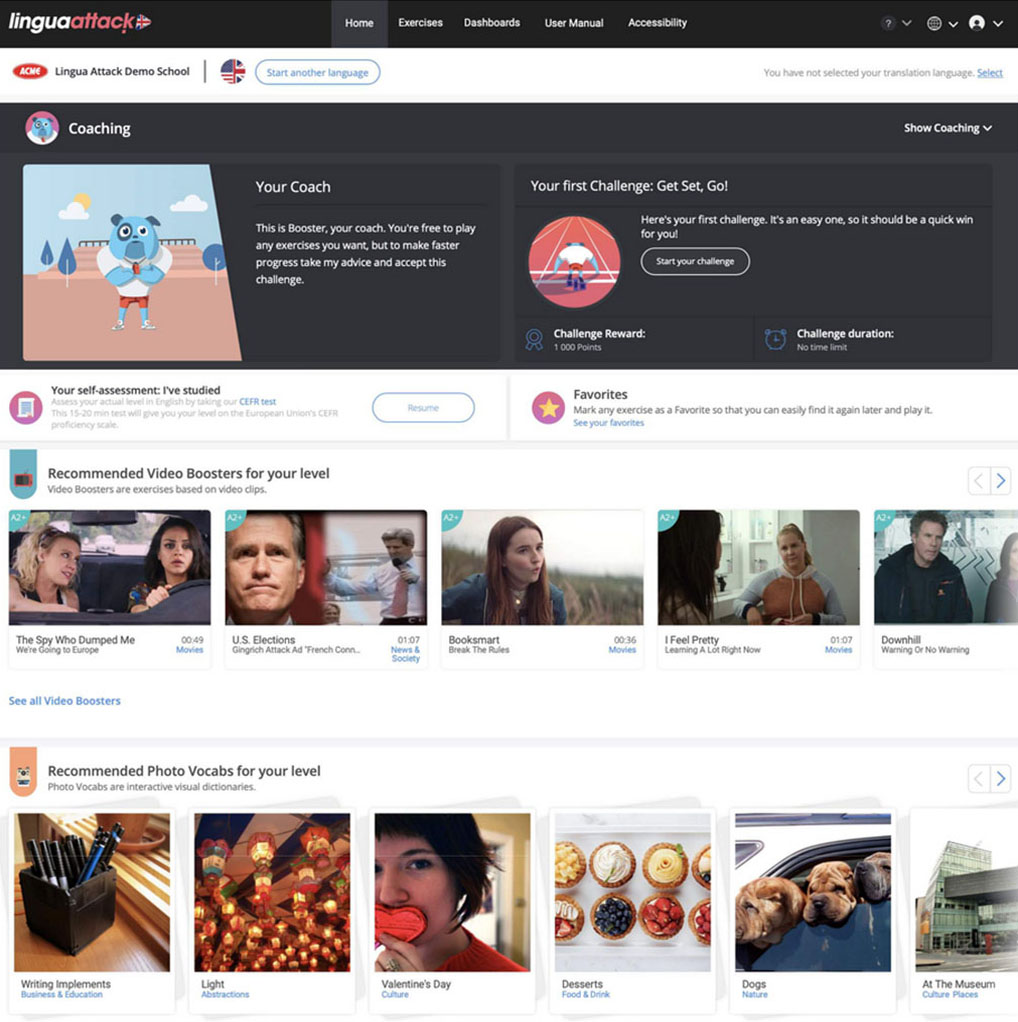 A helpful coach
Booster, the Lingua Attack mascot, encourages and assists the learner over the course of his or her pedagogical activity and in navigating the service.
Motivational challenges
In
Autonomous Learner mode
, starting with the very first log-in challenges are proposed on the home page, encouraging the learner to discover the platform and the different types of learning unit.
A regular flow of new challenges stimulates the learner throughout his or her learning.
Personalised recommendations
Personalised sections on the home page propose learning units in line with the level and interests of the learner.
Scores that reward effort and persistence
A points system measures the learner's performance on each learning unit. By replaying exercises having resulted in sub-optimal scores, the learner both improves his or her proficiency and realises that performance can always be improved.
On Skill Boosters, the learner can, in addition to his or her score, win badges rewarding good performance.
Level assessment tests
Adaptive tests for regular assessment of language skills
Designed and developed in collaboration with specialists in the assessment of language skills, the Lingua Attack level assessment tests evaluate the language skills of the learner in less than 20 minutes. The test positions the learner on the CEFR (Common European Framework of Reference for Languages) skills scale: from level A1 to C2.
Learners can find the results of their tests in their personal space, and print or download a certificate confirming their evaluated skill level?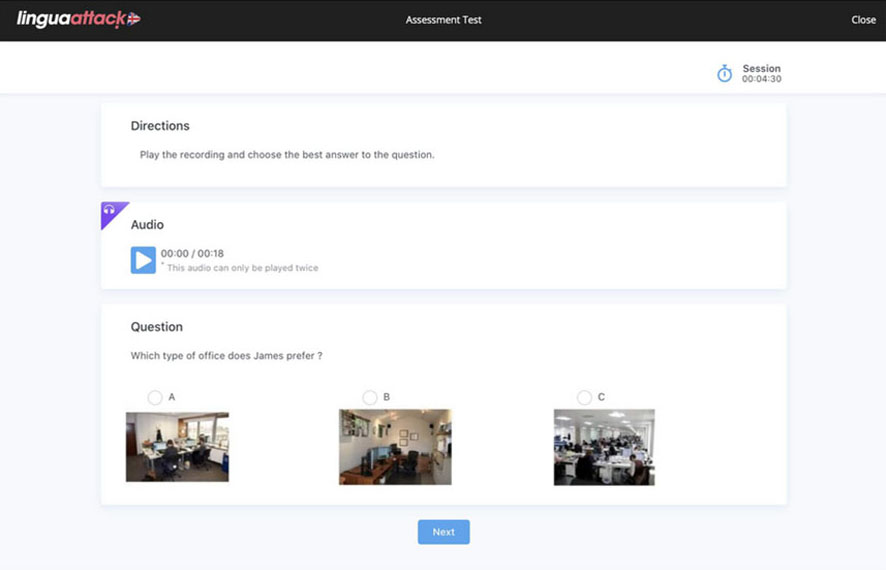 Evaluation on a regular basis
A first placement test is made available to the learner to confirm the self-assessment declared upon registration in the language.
In Autonomous Learner mode, the learner subsequently evaluates his or her progress on a regular basis by taking new level assessment tests every 10,000 points obtained on the platform (in Learner with Tutor mode, the tests are scheduled by the Tutor).
Adaptive tests
Assessment tests are generated from a database of 240 questions per language.
The test structure is adaptive: the difficulty of the test questions depends on the learner's answers to the previous questions.
Questions are chosen and compiled dynamically by an algorithm, making for an almost infinite number of different available tests.
An introduction to official language certification tests
On Lingua Attack, learners can also learn about official language certification tests for recognised confirmation of their language level.
For each official test, a description presents the test procedure, its purpose and a link to the test publisher's official website.
The learner can practice taking each official certification test in the form of a mock exam.
The official tests presented on Lingua Attack:
TOEIC, Bulats, Bright English, Bright German, Bright Spanish, Bright Portuguese, HSK1 for Chinese and TCF for French.
The Learner zone
Personalised dashboards for progression tracking
On Lingua Attack, learners can access a detailed history of their learning activity and, if they are associated with specific classes in tutoring mode, their homework assignments and related scores.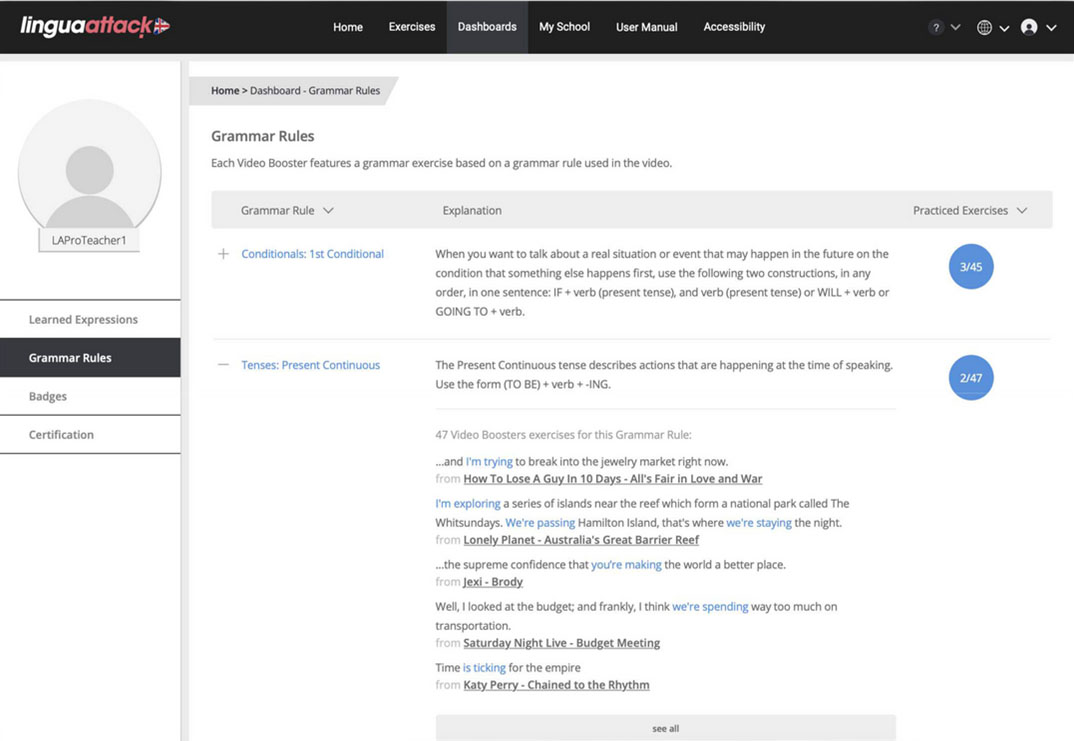 Dashboards
In the Dashboards section, the learner has access to his or her main learning data and progress tracking:
Results for completed Challenges (in Autonomous Learner mode)
Learned vocabulary, including, for each item, the level of memorisation and a link to the learning unit in which the vocabulary was seen
Learned grammar rules (Lingua Attack covers the 60 essential grammar rules for each language), with links to the corresponding exercises where the rule can be practiced
Past

CEFR

level assessment test results
Badges obtained on Skill Boosters
Mock exam results for official tests
Learner's classes (if Tutor mode activated)
If a tutor has given an assignment to a class in which the learner has been placed, that assignment will appear in the
My class section
, where the learner will also be able to see his or her performance on assignments compared to the class average.
In tutoring mode, a summary of the assignments and level tests scheduled for the learner's classes is also displayed on the Student Panel of the learner's home page.
Translation and Pronunciation
A helpful tool available for all activities
On Lingua Attack, learners select their translation language from a choice of 26 languages.
The translation language may be different from that of the interface language (a learner can thus learn English with a user interface also in English, but with translations into Spanish)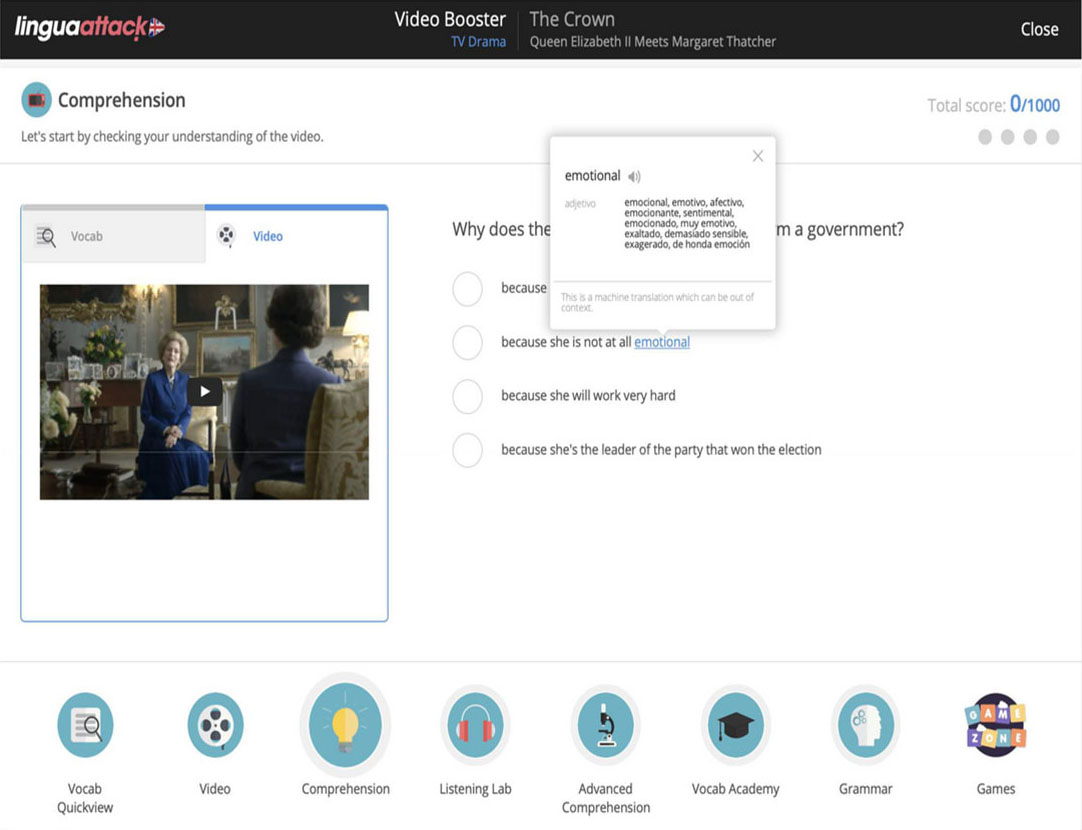 Automatic translation
Each word of the text displayed in the activities can be translated via an online dictionary with a single click. An audio file for pronunciation accompanies the translation.
Contextual translation
In addition to the machine translation mentioned above, all of the expressions of the visual dictionaries, as well as the language elements (dialogues and key vocabulary) of the Skill Boosters and Starter Labs have been contextually translated into 26 languages by a team of translators.
Help, User Guide and notifications
Regular re-engagement of the learner
A complete system of messages and notifications assist and guide learners in their use of the platform.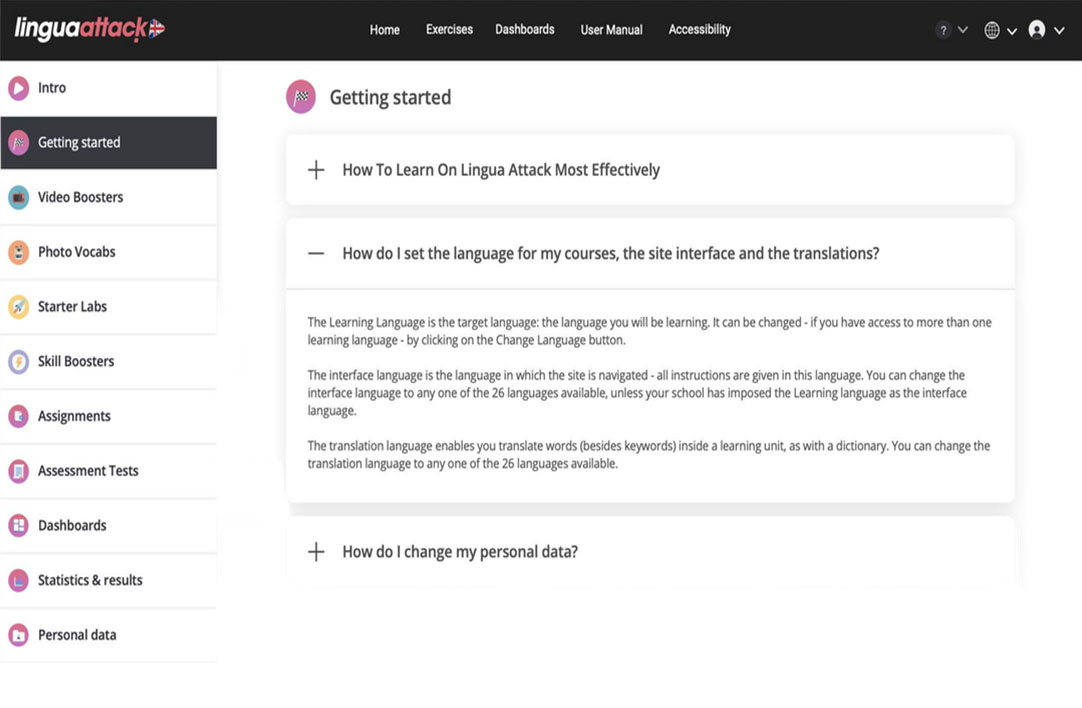 Help pop-ups and a User Manual
Skippable help pop-ups display contextual information about activities and sections of the platform.
The integrated User Manual provides the learner with a detailed description of the platform's pedagogy and functionalities, as well as user tips.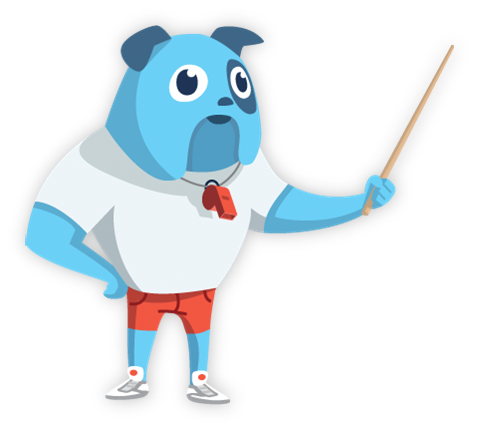 Optional tutoring mode
A hybrid pedagogical approach combining autonomous and guided learning
Tutoring features can be activated optionally, enabling Lingua Attack to be used in conjunction with the preferred methods and approaches used by each teacher or trainer with his or her learners. It's up to the teacher / trainer to use the tutoring functions as much as needed or desired.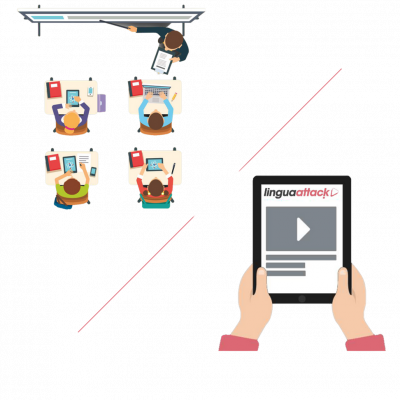 Flipped Classroom / Blended Learning
The instructor assigns exercises to the learners via the Assignments function. In accordance with the Flipped Classroom approach, learners complete the assignment away from the classroom, and in doing so become familiar with the themes, lexical items and grammar points which will then be practiced in class.
Alternatively, the tutor can also use the platform's multimedia resources (videos or visual dictionaries) with learners in synchronous mode, either face-to-face, or remotely via videoconferencing.
Semi-autonomy
Learners can use the platform under the supervision of the tutor who, for example, can ask his or her learners to achieve a certain number of weekly points outside of class hours.
Learners are free to choose the exercises with which to accumulate points.
The tutor has access to the usage statistics and the scores of his or her learners.
Tutor tools
A complete range of functionalities developed together with teachers and trainers
If the tutoring mode is activated on the platform, teachers or trainers will find the tutor functions in the My classes section.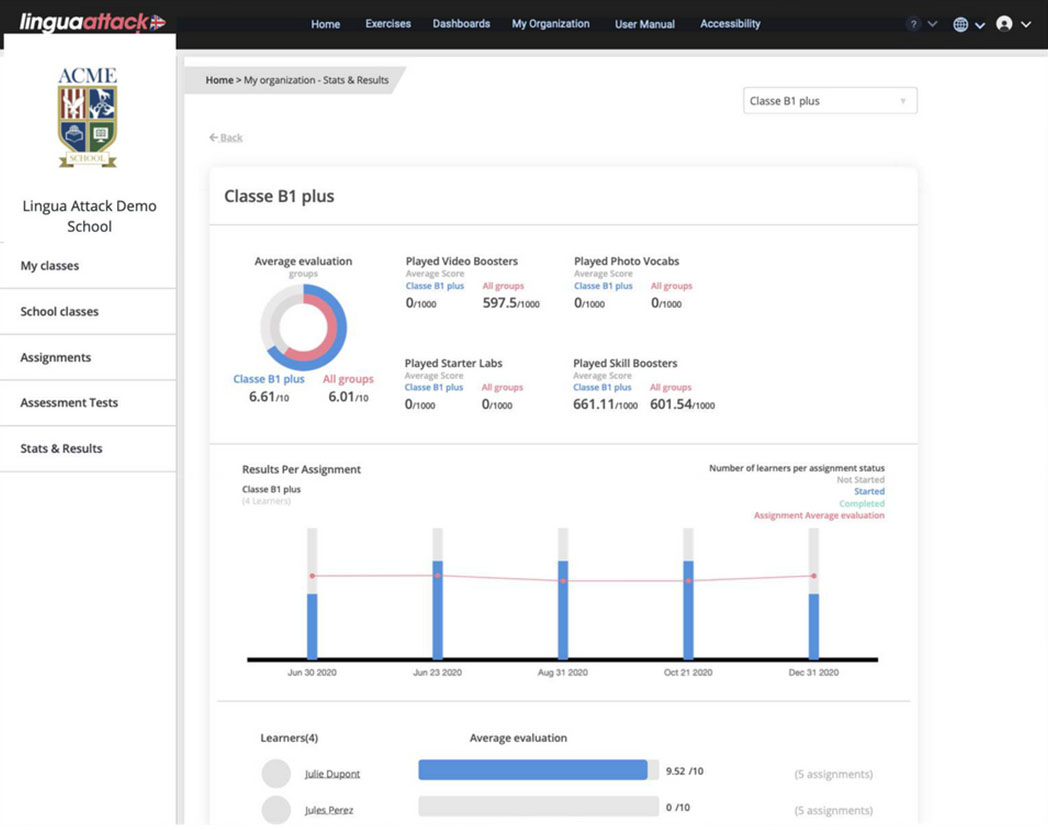 Class management
In most cases, the school or company's administrator will have provided learner, teacher and class information to Entertainment Learning, allowing the tutor to thus find his or her classes already created with the students already registered and correctly placed in classes.
Alternatively, learners can create their own user accounts by entering an activation code, with tutors then able to set up classes or groups – and place specific students in them – manually. In any case, tutors can still set up additional classes or groups as needed.
Assignments
The tutor creates an Assignment by adding exercises for various types of activity and giving the assignment to one or more classes, with a due date. Upon publication by the tutor, the Assignment is posted on the Student Panel of the learner's home page.
Scheduling of level assessment tests
A tutor can schedule

CEFR

Level Assessment Tests for one or more classes.
Learners can take the test either directly in

class

, or

remotely

.
User statistics and learner results
In this section, the tutor can consult each learner's results, as well as the average result of each class. Reports with results and usage statistics for a defined time period can be downloaded in Excel format.
Multi-criteria search
The tutor can search for exercises according to different search criteria and filters: CEFR level, grammar rule, keyword, publication date, alphabetical order, category, etc. Tutors can also pre-select exercises, placing them in a Favorites area, for later use.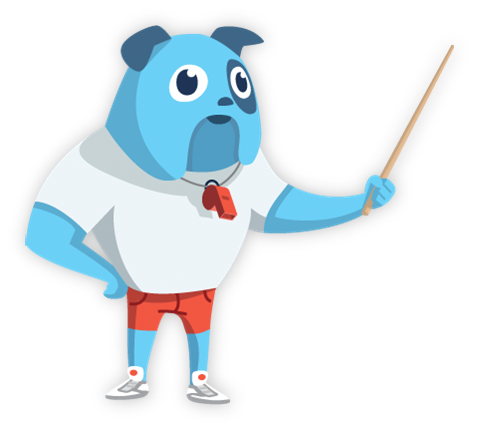 Deploying Lingua Attack
License distribution adapted to all types of organisations
Lingua Attack is already used by over a million learners worldwide. Three license distribution modes are available, depending on the size of the organisation.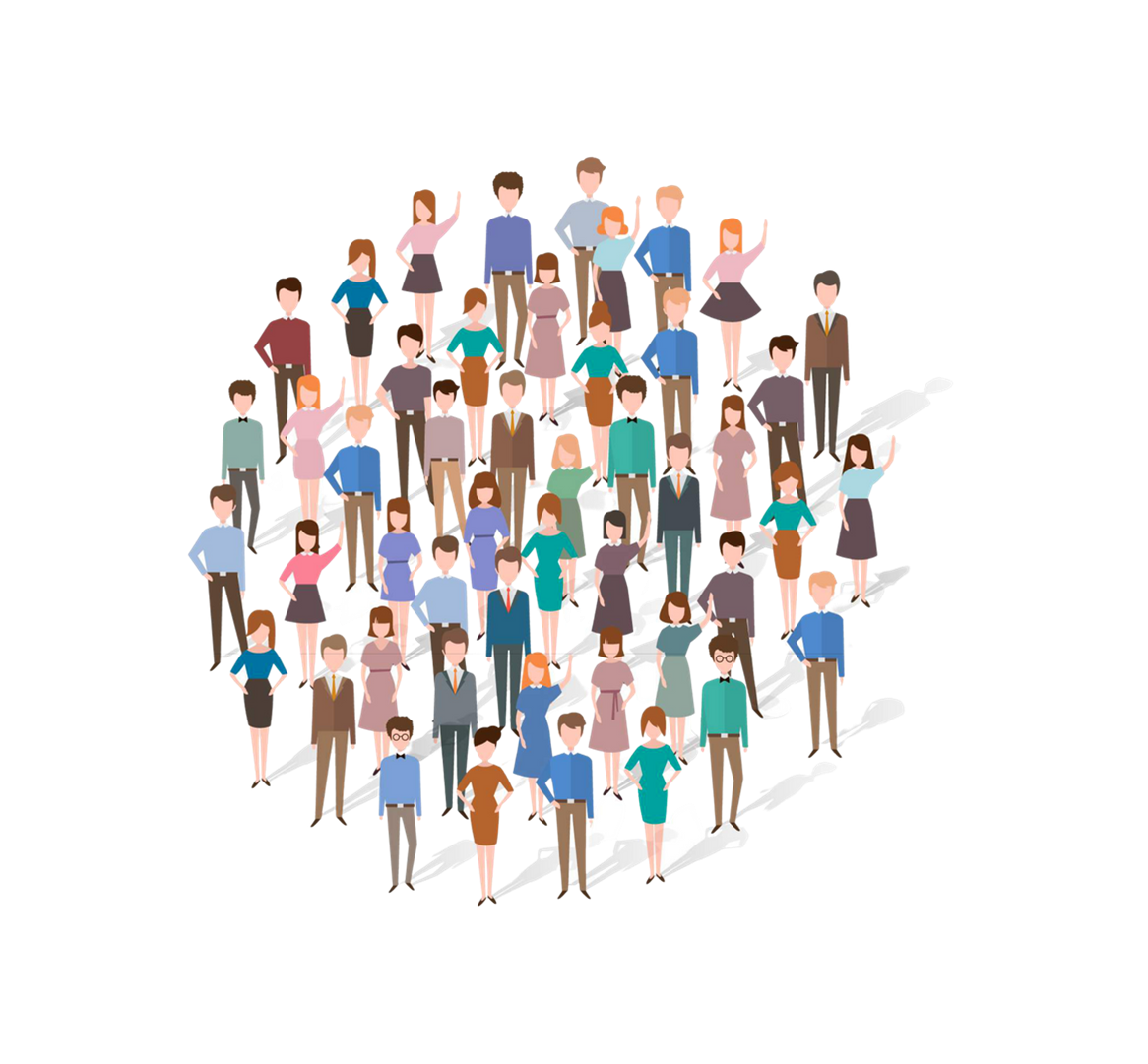 Distribution of activation codes
Our customer support teams generate activation codes for the client organisation, configured according to the desired licence duration or expiration date. Learners use the code when creating a user account on Lingua Attack, thus activating their license.
This distribution method is recommended for relatively small numbers of learners.
Import of learner identification data
For larger structures, Entertainment Learning creates learner accounts by importing the user identification data provided by the school or organisation (typically last name, first name, email address, duration of the license, languages to be learned, etc.).
Learners then automatically receive their platform credentials (username and temporary password) and a registration link by e-mail.
Single Sign-On login
As an option for organisations that request it, Entertainment Learning can develop a Single Sign-On (SSO) connector for signing up and logging in to Lingua Attack directly from the organisation's intranet or LMS.
Personalisation
The Lingua Attack home page, learner page and trainer page is personalised with the client organisation's logo and name.
Reporting and statistics
Detailed learning and usage data
For each language being learned, administrators have access to a detailed set of data to analyse the usage of the service and the performance of learners on the platform.
All data can be downloaded in Excel format.
Log-in data
On Lingua Attack, the following data is recorded for each learner:
Registration date
Number of log-ins and date of last log-in
Platform used (mobile application or website)
Time spent on the platform for a defined start and end date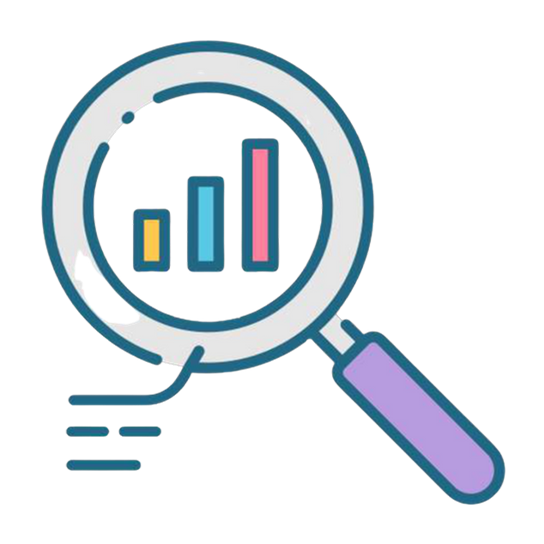 Learning units played
For all learners, the administrator has access to the number of units played for each type of activity, as well as the number of points obtained per learning language.
Level Assessment Test results
Administrators can also track learner progress via the results obtained over time in the CEFR Level Assessment Tests taken.
Interested? Please book a date to find out more!